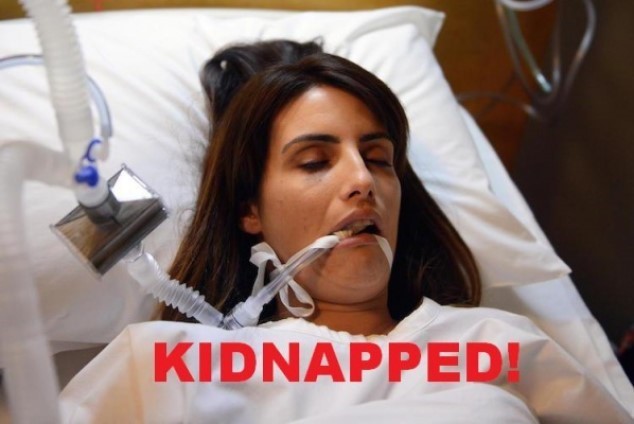 "Brain death"
was invented
in 1963,
to depopulate
healthy
American
IRS-defined
"useless eaters",
via vital organ$
harvesting
(for our
elitist
owners).

Wake up to
"brain death"
while you
still can.

The time
to wake up
is not after
you have
been declared
"brain dead".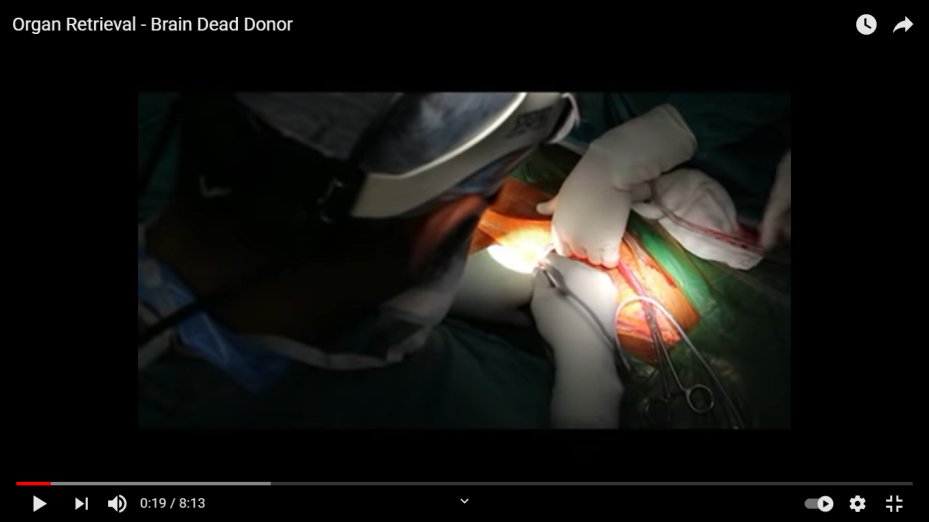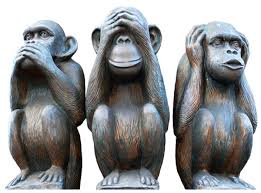 The sins
of "our"
government
are concealed
by "our"
93
Federal
Prosecutors.

IN
THE
MEANTIME
the vaccine
is causing
lipids to
collect
in your
ovaries
...
Variants are
caused by the
vaccinated,
not by the
unvaccinated.

Vaccines last
6 months.
...
Natural
immunity
lasts
6 months.
...
Vaccines risk
myocarditis
(a big deal)
and
blood clots
(a big deal)
...
Natural
immunity
does not.

The vulnerable
should get
vaccinated
...
The rest
of U.S.
should not!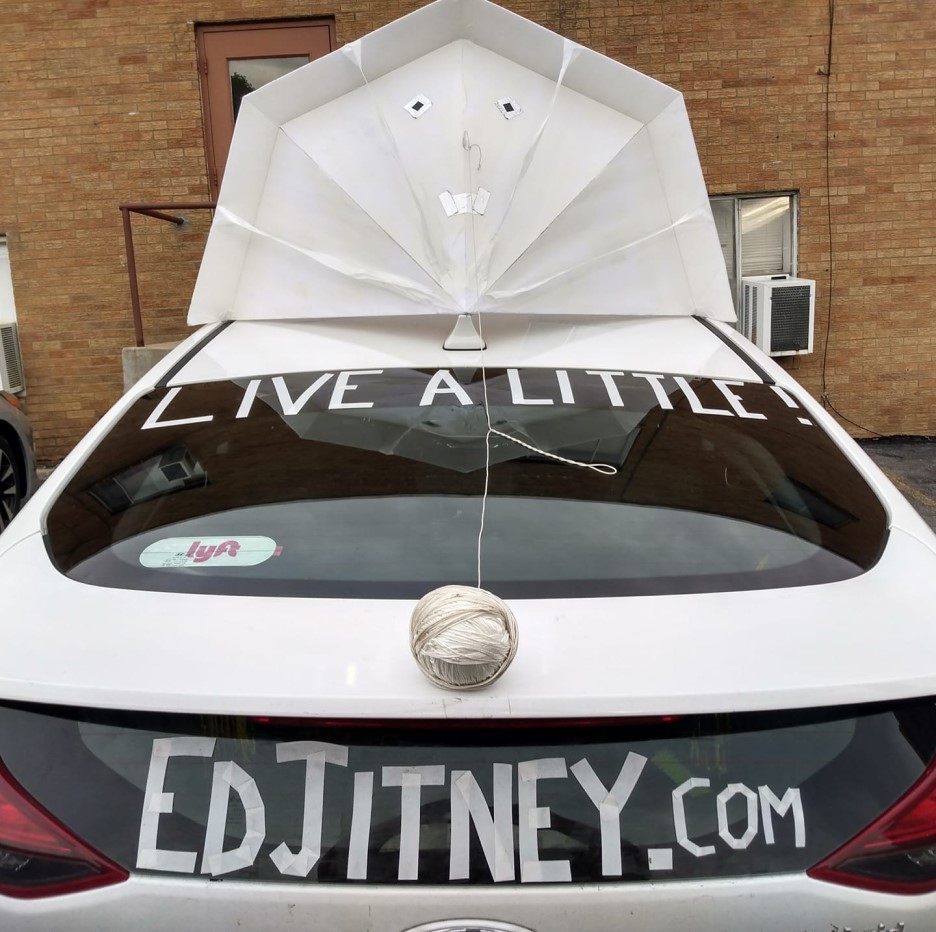 Go fly
a kite
FAUCI.

Now that Fauci
is a proven
fraud...
Time for
another
war, as in
another
distraction!

Well, back to
YOUR
future
medical
kidnap/
murder
...
Just these five pages
of medical records prove
medical fraud,
and intent to
terrorize/murder
a healthy, medically
subdued Rita Joanne
Conley...
Well over 2000 pages
of medical records
are sealed by the
W Pa Federal
Prosecutor, thus
protecting
"national security"!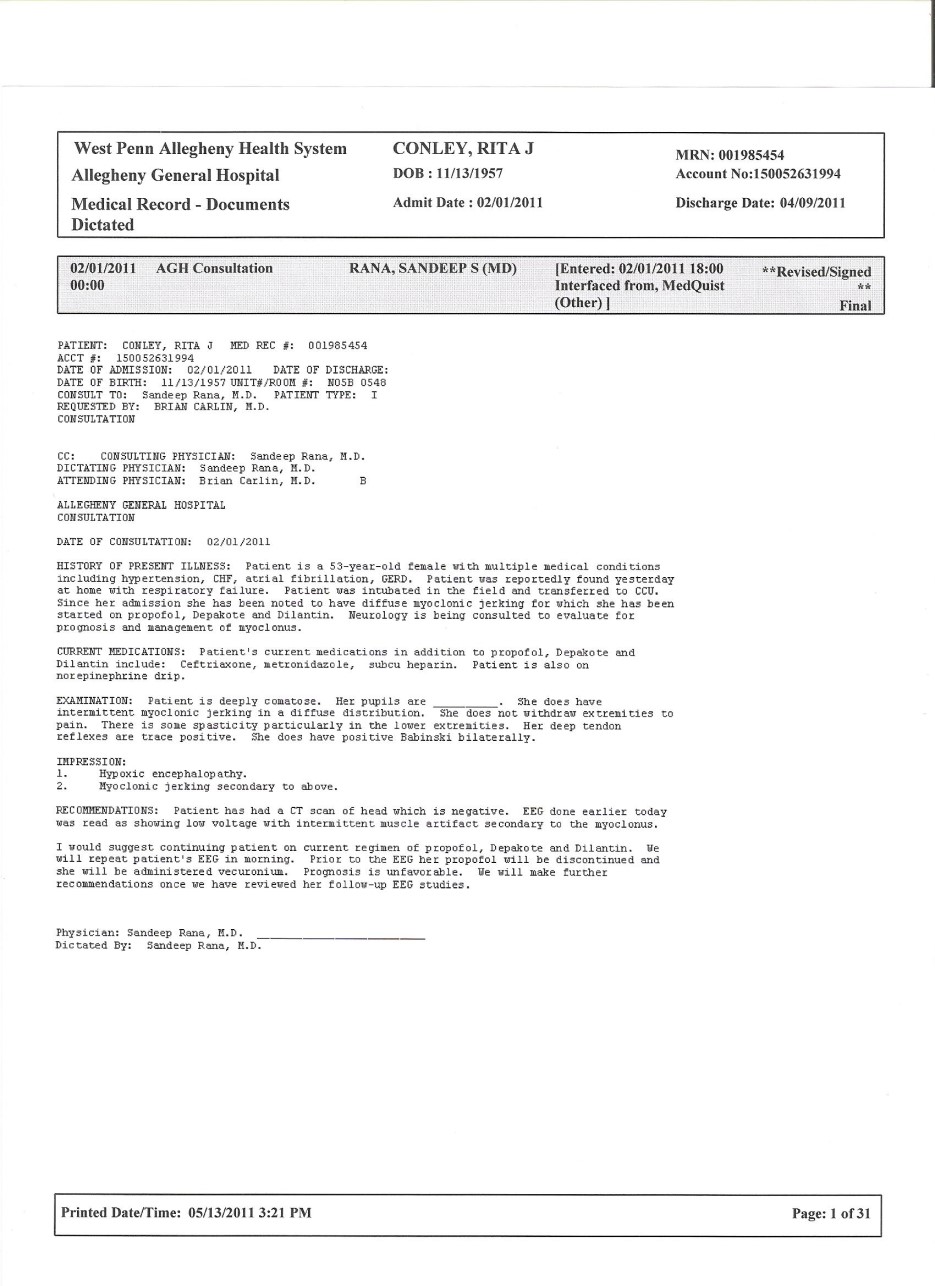 Note that Menon states
that Rita's pupils are
equal and reactive to light
(which doesn't happen
when comatose, let alone
"deeply comatose"),
and mentions Rita's
having pulmonary edema
(fluid-in-the-lungs),
for which she receives
no treatment...
Notice that Rita's
ventilator is set at 18bpm
using pure oxygen
(EXREME HYPERVENTILATION),
which is enough to
knock out a healthy elephant,
let alone a healthy Rita...
hence Rita's waking up in
the ER and THEN
having severe HICCUPS
(from way too much O2),
which criminal Rana then
refers to as
"MYOCLONIC JERKING",
per "deeply comatose"...

The only reason that
extreme hyperventilation
did not cause brain death
(from too much oxygen),
was that Rita's fluid-
in-the-lungs was NEVER
treated...
I was never given the
Neurology Records, as they
would show that the
"myoclonic jerking" was
never intermittent and
diffuse (per Rana), but
forever continuous and
in exact rhythm with
the ventilator rate,
except during CPAP
(when all "jerking" stopped),
when the vent rate was
less than 8 bpm!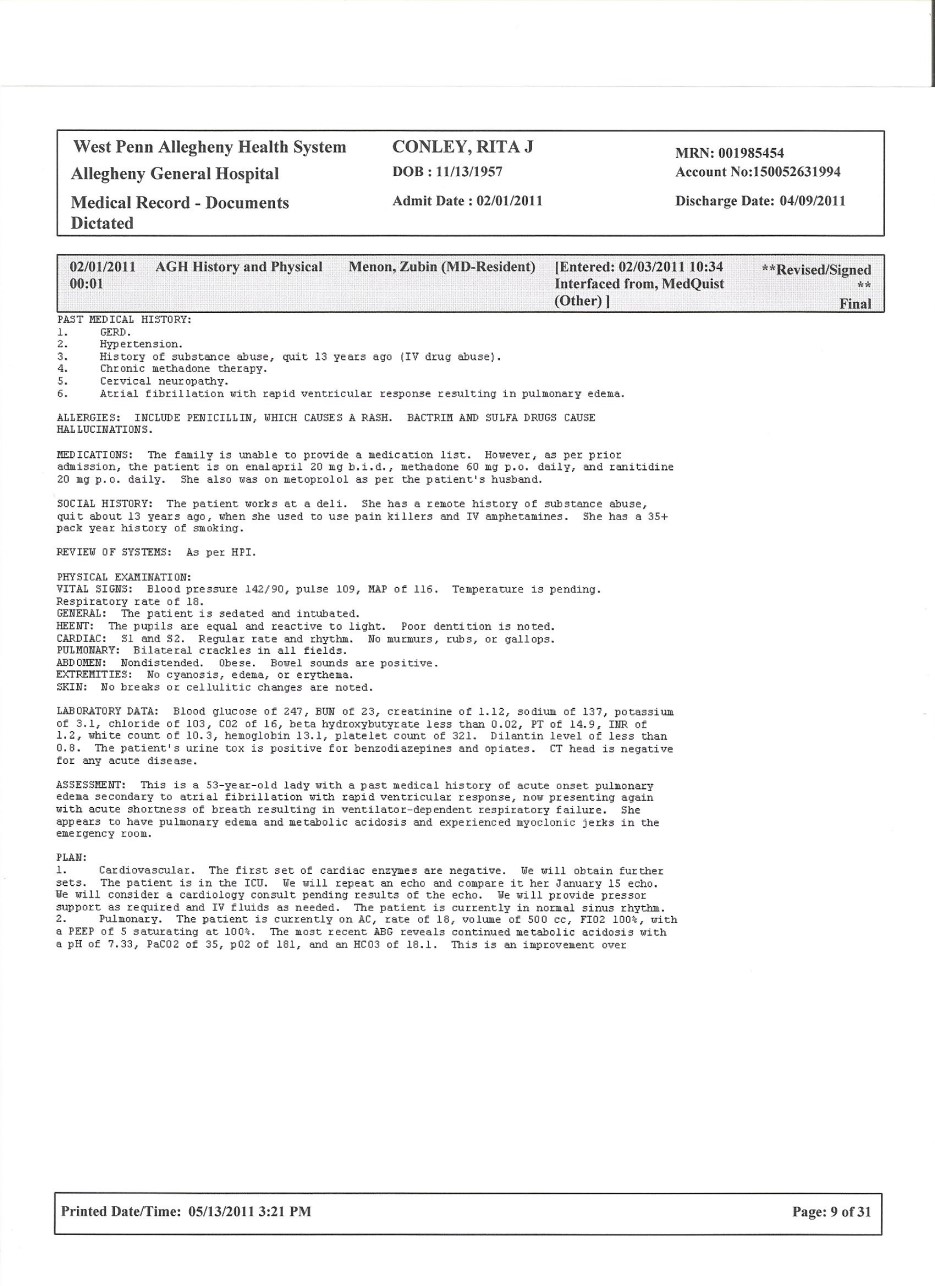 Note that most of these
doctors refer to a
fabricated past history of
IV drug use, manufactured
only to support the notion
of a 2-01-11 drug overdose,
septic shock, and ARDS
(which never happened, as
proven in records), in
preparation for the
Tracheostomy
(vocal cords bypass) Scam,
which ONLY Dr. Sheri Ann
Mancini was willing to
perform
(complicit to the murder).


Note that Menon can find
records of Rita's admission
(2 weeks prior), whereas
criminal Zaiser states
"We cannot find that record
in our portal".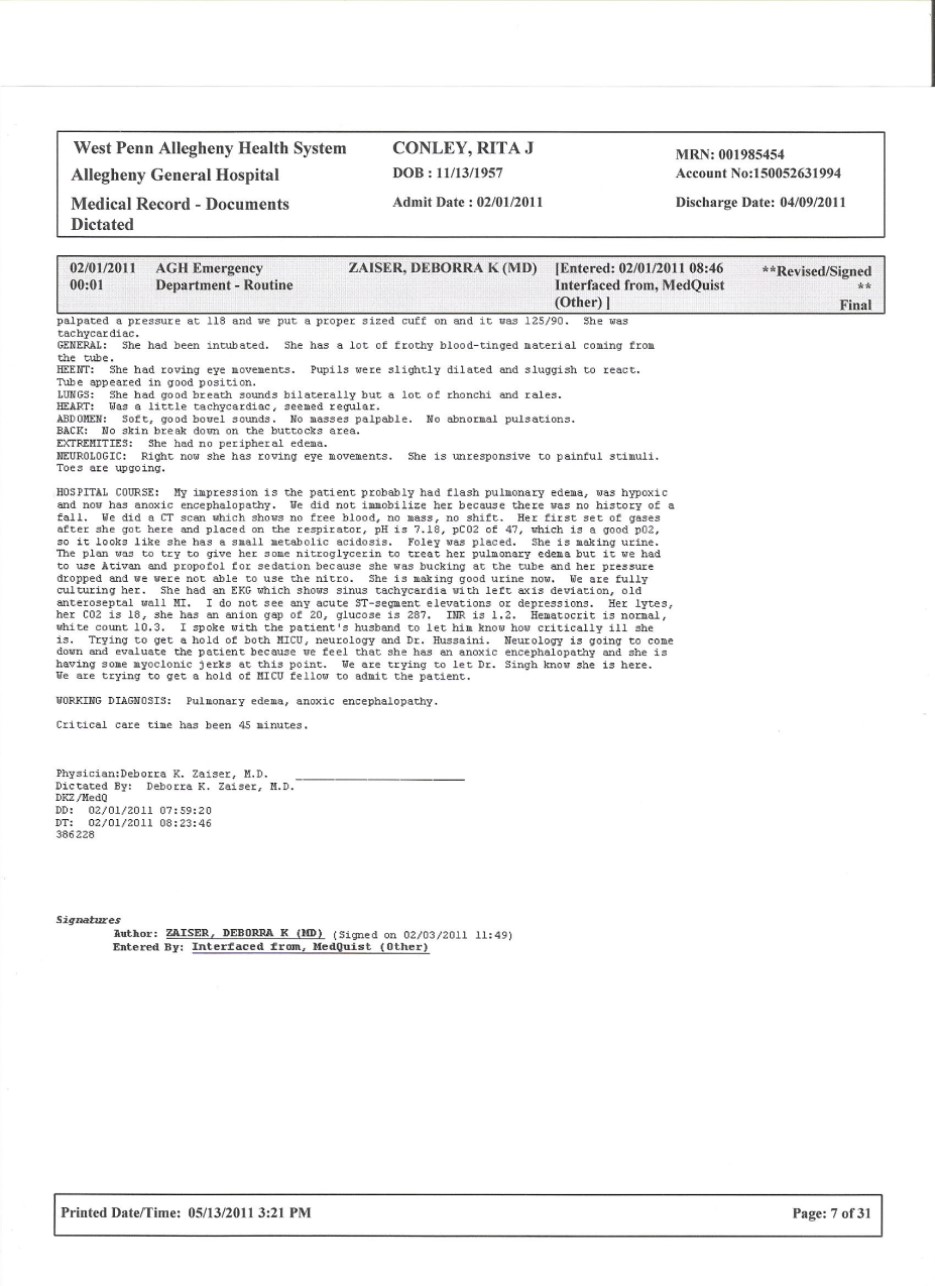 Note that Dr Zaiser, who
gave Rita the cover-up
Morphine overdose on
9-10-11, is already
calling Rita brain-dead
(anoxic encephalopathy)
ON 2-01-11,
WHILE Dr Menon is stating
that Rita's pupils are equal
and reactive to light DUH?!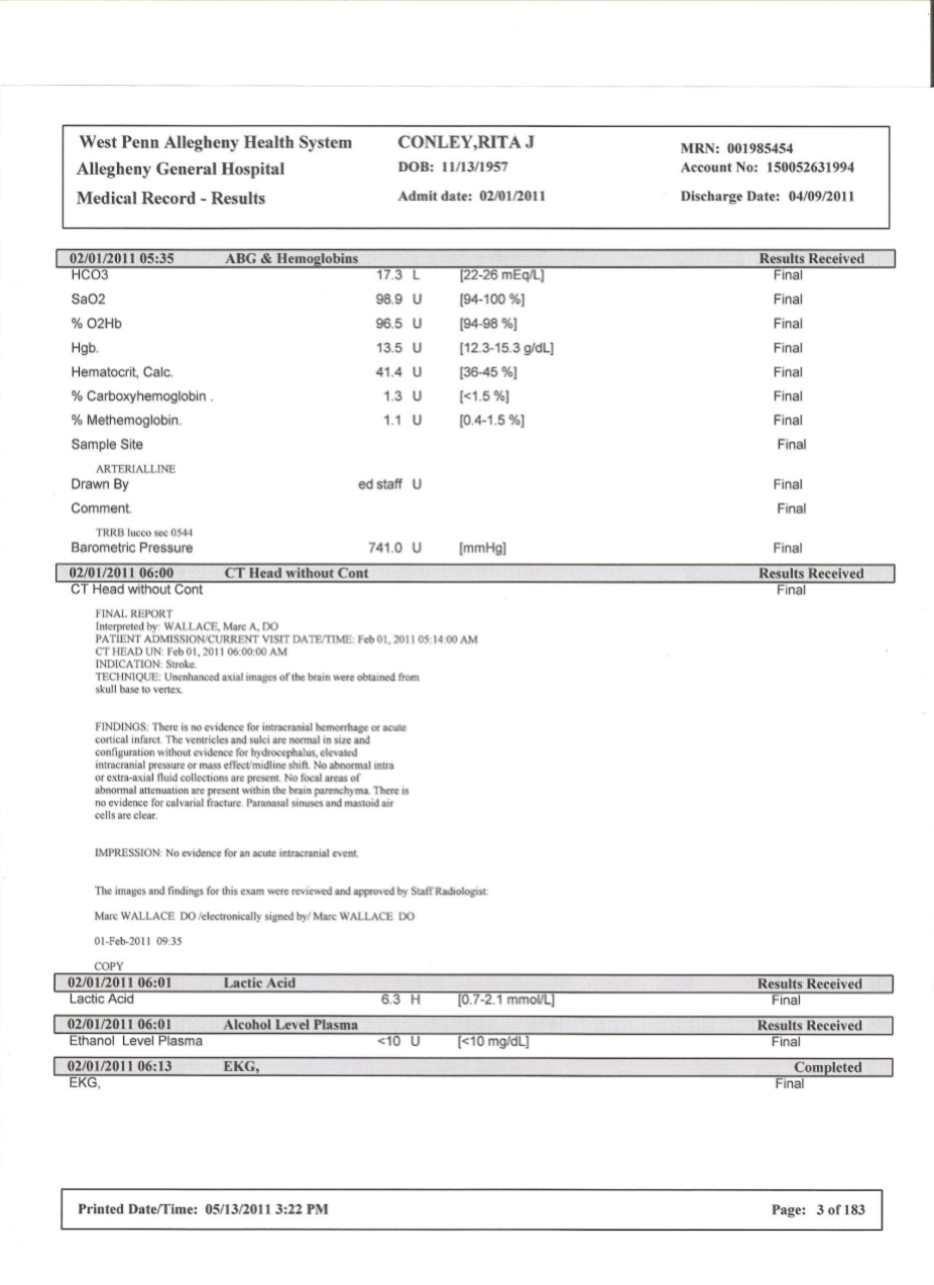 Add to this, Dr.
Wallace's statement above
(on 2/01/11), that there
is "NO EVIDENCE
FOR AN ACUTE
INTRACRANIAL EVENT"!

I want the COMPLETE
medical records of
Rita Joanne Conley,
from Rita's first visit
to PCP Hussaini till
her cremation by
Zappala's stooge,
Dr Karl Williams,
and I want them BEFORE
Highmark destroys records
(on 9/11/18).
...
Of course
records were
never obtained,
thanks to criminal
Federal
Prosecutors
David J Hickton
(sealing records)
and
Scott W Brady
(destroying them),
whose Federal
Marshals kept
me at bay
for 7 years!