ZAP ZAISER
WITH MURDER ONE!

PROOF OF INTENT TO
MEDICALLY MURDER
RITA JOANNE CONLEY
(2/01/11 TILL 9/10/11),
BY AHN DOCTOR
DEBORRA KIM ZAISER
(PERPETRATOR),
FOR WHOM I (EDWARD
HOWARD MCWHIRTER)
CALL FOR THE DEATH
PENALTY (ACCORDING
TO PENNSYLVANIA
STATE LAW)...

M.O. FOR AHN
MURDER BY FAKE
"BRAIN-DEATH", THEN
ORGAN$ "DONATION"
(FROM THE HEALTHY).
In the medical records
below, one doctor proclaims
my wife "deeply comatose",
while another cites "no
evidence for an acute
intracranial event"!

Intentionally fabricating
"brain-death" from untreated
PE, is First Degree Murder.

When healthy patient's vocal
cords are bypassed from
2/01/11 till 9-10-11,
it is Terrorism.

When obvious terrorist
murder of Americans is
enabled and covered up
by FBI, it's Tyranny.

When neurological terror
is covered up by
KDKA's Neurologist
Dr. Maria E Simbra,
YOU DON'T STAND A
CHANCE...

When PITTSBURGHERS
are too cowardly to
CALL OUT KDKA,
then YINZER screwed...

Just these five pages
of medical records prove
WPAHS medical fraud,
murder, and intent.

Well over 2000 pages
of medical records
are sealed by the
W Pa Federal
Prosecutor, thus
protecting
"national security"!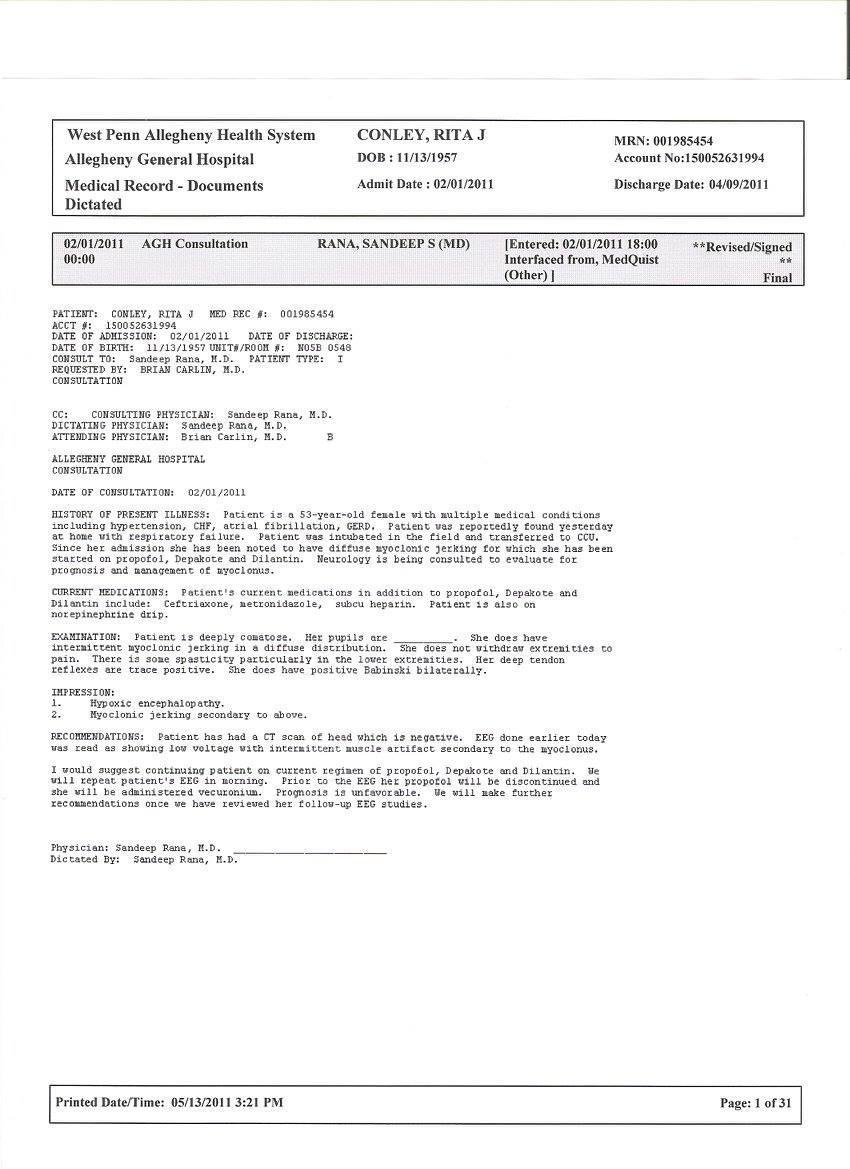 Note that Menon states
that Rita's pupils are
equal and reactive to light
(which doesn't happen
when comatose, let alone
"deeply comatose"),
and mentions Rita's
having pulmonary edema
(for which she receives
no treatment)...
Notice that Rita's
ventilator is set at 18bpm
using pure oxygen
(EXREME HYPERVENTILATION),
which is enough to
knock out a healthy elephant,
let alone a healthy Rita...
hence Rita's waking up in
the ER and THEN
having severe HICCUPS
(from way too much O2),
which criminal Rana then
refers to as
"MYOCLONIC JERKING",
per "deeply comatose"...

The only reason that
extreme hyperventilation
did not cause brain death
(from too much oxygen),
was that Rita's fluid-
in-the-lunds was NEVER
treated...
I was never given the
Neurology Records, as they
would show that the
"myoclonic jerking" was
never intermittent and
diffuse (per Rana), but
forever continuous and
in exact rhythm with
the ventilator rate,
except during CPAP
(when all "jerking" stopped),
when the vent rate was
less than 8 bpm!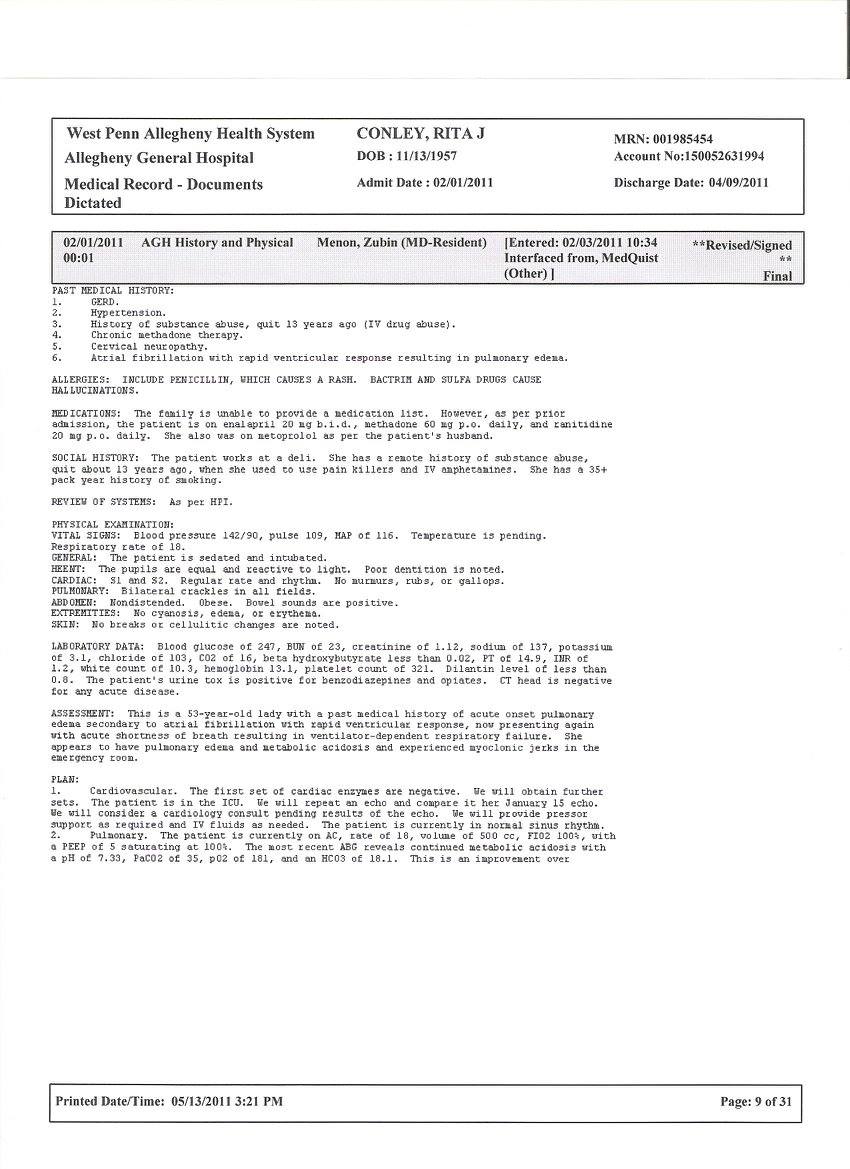 Note that most of these
doctors refer to a
fabricated past history of
IV drug use, manufactured
only to support the notion
of a 2-01-11 drug overdose,
septic shock, and ARDS
(which never happened, as
proven in records), in
preparation for the
Tracheostomy
(vocal cords bypass) Scam,
which ONLY Dr. Sheri Ann
Mancini was willing to
perform
(complicit to the murder).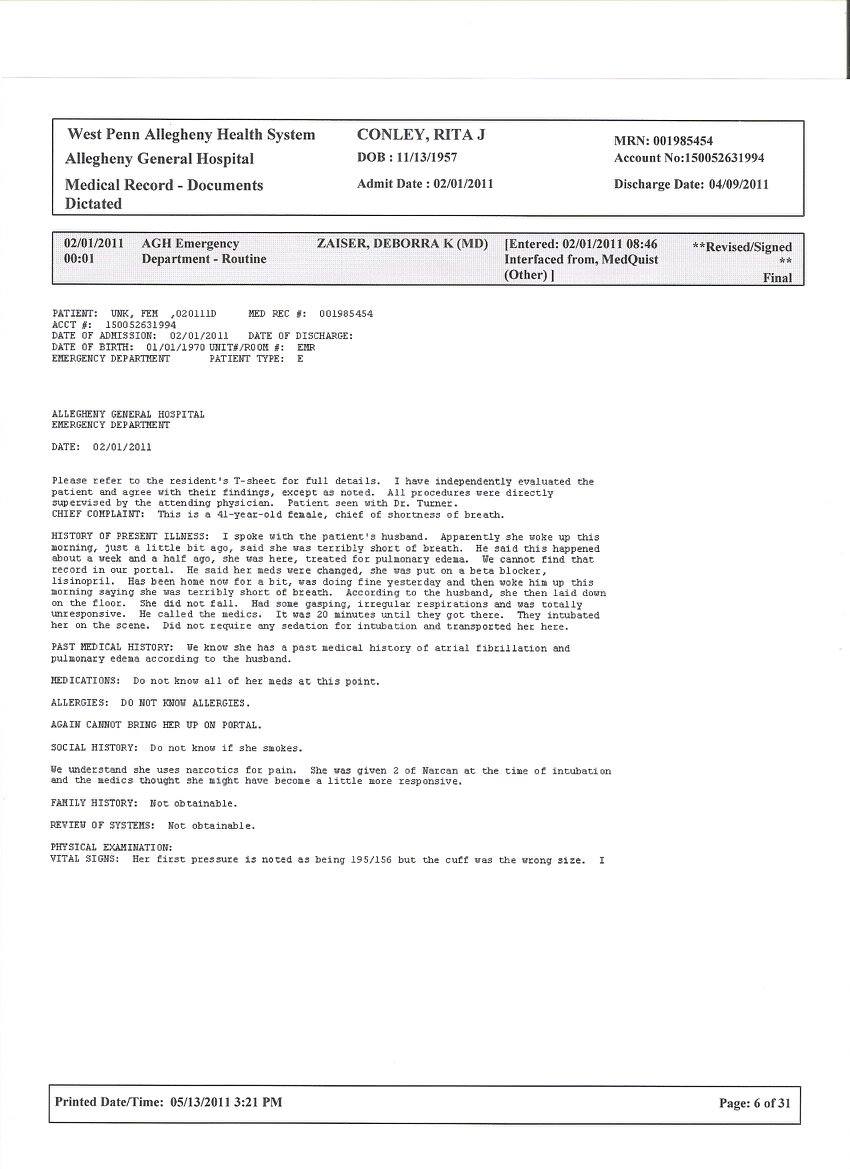 Note that Menon can find
records of Rita's admission
(2 weeks prior), whereas
criminal Zaiser states
"We cannot find that record
in our portal".

Note that Dr Zaiser, who
gave Rita the cover-up
Morphine overdose on
9-10-11, is already
calling Rita brain-dead
(anoxic encephalopathy)
ON 2-01-11,
WHILE Dr Menon is stating
that Rita's pupils are equal
and reactive to light DUH?!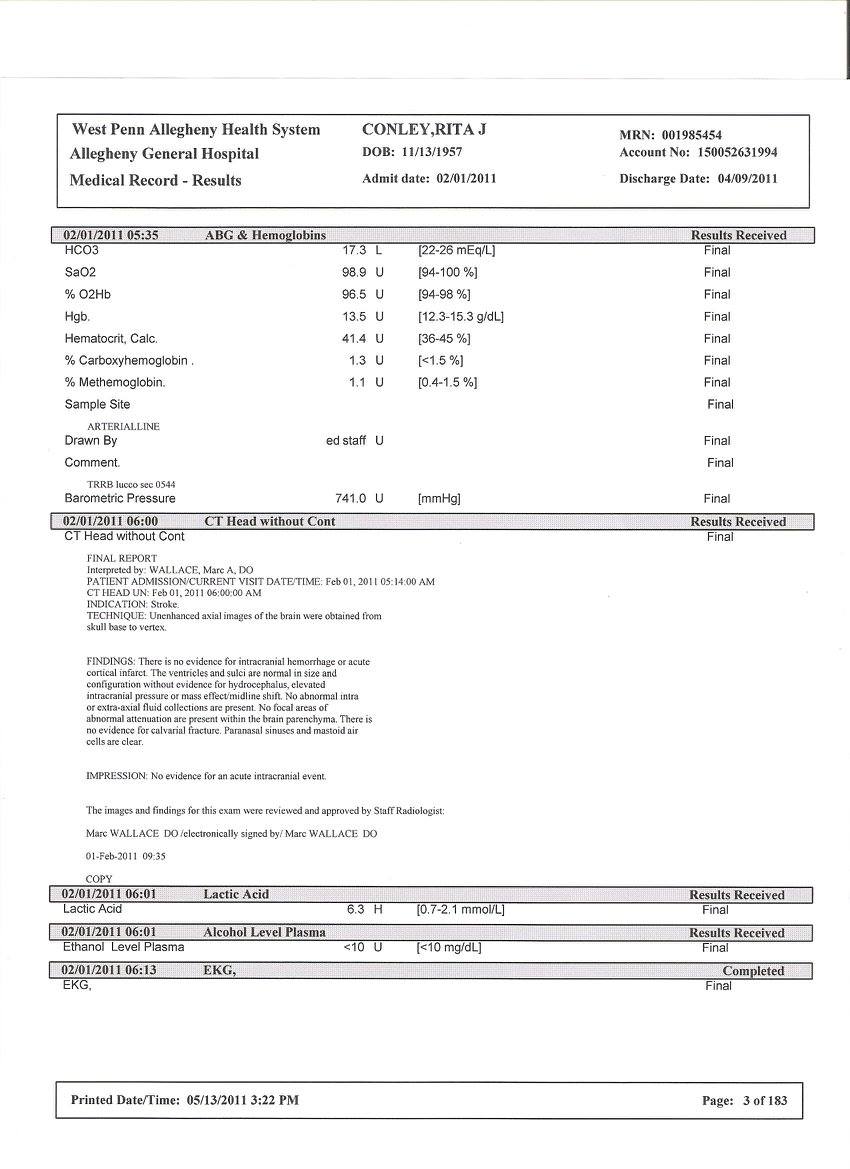 Add to this, Dr.
Wallace's statement above
(on 2/01/11), that there
is "NO EVIDENCE
FOR AN ACUTE
INTRACRANIAL EVENT"!

I want the complete
medical records of
Rita Joanne Conley,
from Rita's first visit
to PCP Hussaini till
her cremation by
Zappala's stooge,
Dr Karl Williams,
and I want them BEFORE
Highmark destroys records
(on 9/11/18).

Click for endless proof
of fraud and murder,
covered up by Federal
Prosecutor Hickton.





31 **
********************************
***
***********************************
***********************************
***********************************
***********************************
***********************************
***********************************
*************
***********************************
***********************************
*************
***********************************
***********************************
***********************************
********************



Click on the
individual asterisks
(un-edited "rants")
above, to learn how
and why you have been,
and will be terrorized
to death by the
FED's IRS in
the near future...
Note that a "rant"
is what the Elite
call the truth.

NOTE THAT HUNDREDS
OF THESE ASTERISKED
WEB PAGES WERE
HIJACKED BY
DAVID J HICKTON,
DIRECTOR OF
PITT'S CYBER
INSTITUTE...

PITT IS WHERE
MEDICAL TERROR
BEGAN IN 1963!

Both David J Hickton
and his father (Jack)
sucked David
Rockefeller's
demonic dick until
20 March 2017...

3.141531